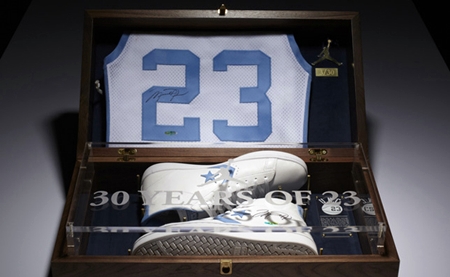 To commemorate Michael Jordan's winning shot in the 1982 NCAA National Championship finals, Jordan Brand partnered with Converse to produce the Converse Pro Leather Mid LTD or which is now popularly known as the Jordan X Converse Commemorative Pack.
It has been 30 years since Jordan sank that game-winning basket in the National finals and to commemorate that momentous event, 30 packs have been made available for auction at eBay. Each pack contains a signed pair of Converse shoes and a North Carolina Number 23 Jersey.
A project led by Jordan Brand's WINGS for the Future program, all proceeds of the bid will go to the James R. Jordan Foundation. These packs won't be available for retail.