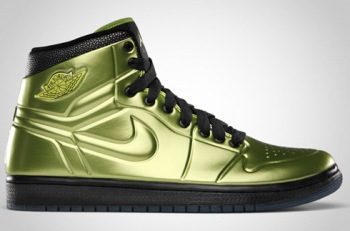 The Jordan Brand is looking to excite their ever-loyal buyers again as they release the altitude green edition of the Air Jordan 1 Anodized this weekend, which is expected to be an instant hit in the market, along with the Altitude Green colour of the Air Jordan 13 Retro.
The AJ1 Anodized boast a striking green metallic colour with dotted collars, and it's upper part is somewhat similar to the AJ13, giving the Jordan-lovers two great choices this weekend.
Having a difficult time selecting between the two? You do not have because both are great shoes for its price and you will never regret buying it. So this Sunday 12 December, do not dare miss it because it will definitely be one of the best Jordan shoes this year.