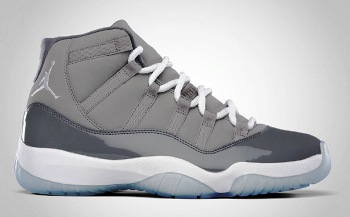 The Air Jordan 11 Retro, which considered as one of the most popular models in the long history of the franchise, is set to make another noise before the year ends, after the Jordan Brand announced that the new edition of it will be available starting Thursday 23 December.
The new AJ11 Retro will come in a fan-favourite colourway of Cool Grey, which will definitely an eye-popper for the Jordan lovers. It features a grey monochromatic upper part paired with icy cool sole and white mid-sole, that is more attractive that the original edition.
Even before its official release, the Jordan Brand followers have made their reservations, a proof that the new AJ 11 Retro will be a huge hit in the market this Holiday Season so you should definitely miss the chance of grabbing one this Thursday.