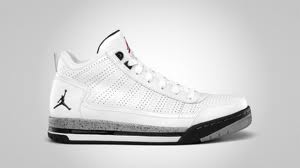 One of the newest shoe models from the Jordan Brand, the Jumpman C-Series made waves after its debut earlier this year and this new model is set to impress once again this May 2011.
The Jumpman C-Series came out in a dominant-black color on April 2011, and next month the shoe will come out in White/Black-Varsity Red-Cement Grey, which is almost the same as the one released this month. The only difference is that the upper part is white-colored and the midsole is white-colored, and exact opposite of the colourway released last April.
Like the earlier editions of this shoe, the new Jumpman C-Series is a must-buy next month!