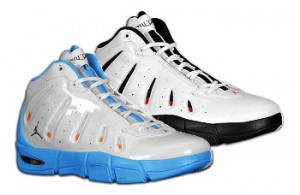 Carmelo Anthony is creating a lot of buzz in the NBA right now with all the trade rumours and his impressive plays, and he will soon create another news.
But this time, it's not about rumours, it's not about his plays, but with his news signature shoe. Yes, you read it right; the seventh signature of Anthony will hit the market this weekend, 20 November.
The "Jordan Melo M7" is a unique blend of astonishing looks and its performance based design, which was patterned in Carmelo Anthony's versatility inside the hard court. It is definitely a step higher than M6 with its new "columnar" design.
So if you are one of the gamers who is versatile like Melo, and even if you are just an avid collector, then you should not miss this one, and you should immediately grab one this weekend.