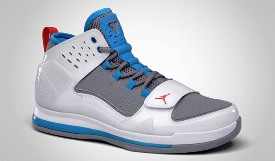 Living up to its billing of bringing glory on how Michael Jordan revolutionized the world of basketball with his entry in the NBA in 1985, the Jordan Evolution '85 is looking to turn heads once again with the release of a new colourway this month.
With the success of the previous colourway of the shoe, one doesn't need to be a scientist or an expert to predict that the White/Infrared-Orion Blue-Stealth will be a hot item in the shoe world this month so stay tuned for it and grab one immediately once it's released!
Check this site for more info in the coming days!