Derek Jeter, Baseball Player
* Born: 26 June 1974
* Birthplace: Pequannock, New Jersey
* Best Known As: Hunky NY Yankee shortstop
Derek Jeter played 15 games with the New York Yankees in 1995; the next year he established himself as the team's regular shortstop and quickly became an all star. The Yankees won the World Series four times in Jeter's first five full years on the job. He was named the team's captain in 2003, becoming the first Yankee captain since Don Mattingly's retirement in 1995. Jeter's good looks have helped make him a favorite with younger fans, and he is often compared with fellow shortstop prodigies Nomar Garciaparra and Alex Rodriguez.
Jeter bats right-handed, throws right-handed, and wears uniform number 2… Jeter's father is African-American and his mother is Caucasian; his heritage is reportedly a mix of African, Irish, Indian, and German… In 2004 Alex Rodriguez joined the Yankees, moving to third base to play alongside Jeter.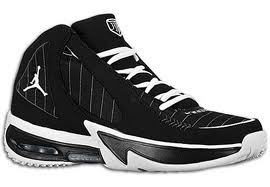 Game-day shoe of Derek Jeter. The Jumpman DJ Metal baseball shoe was made especially for players seeking a combination of comfort, styling and performance. Nubuck leather upper with slow recovery memory foam collar, pinstripe piping and versatile lacing system. Injected Phylon™ midsole and full-length Zoom Air™ sockliner provide added cushioning. Pebax® plate with metal cleats and supplemental Pebax® forefoot and heel cleats. Wt. 16.2 oz.