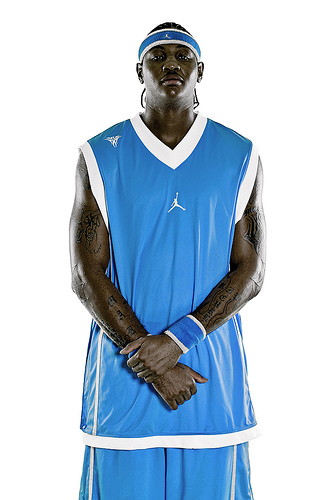 Everyone knows that Denver Nuggets superstar Carmelo Anthony wants to – and likely will – wind up playing for the New York Knicks one way or another. While he has his own personal reasons, everyone in marketing – including his shoe Jordan shoe brand – are hoping it happens because stars shine in New York more so than any other stage.
On Wednesday, it was reported that the Knicks and Nuggets finally have the outline for a trade to make it happen.
Anthony has forced the Nuggets hand as he won't sign an extension with any other team than the Knicks, which means that the Nuggets have limited trade partners. It's either the Knicks or anyone who is willing to rent Anthony for half a season and then see him walk.
But the Knicks and Nuggets have agreed on parameters, which pave the way for a deal in the coming weeks before the NBA Trade Deadline.
The Knicks have agreed to either give up Danilo Galinari or Wilson Chandler, and are open to the fact that Raymond Felton may have to be part of the deal. The Nuggets are insisting that whoever takes Anthony also takes veteran guard Chauncey Billups as it will free up some cap space for them and playing time for Ty Lawson.
Other parts of the deal will likely include Landry Fields, Timothy Mozgov, Eddy Curry's expiring contract and potentially Anthony Randolph.
Those betting the NBA spread know that the Nuggets aren't exactly going to come off as bandits in this deal. They have their backs up against the wall and even if Galinari or Chandler are the centerpiece of the trade, it's not going to look pretty when Anthony is officially gone.
The trade talks are expected to heat up after the NBA's All-Star Weekend, which runs from February 18th-20th. If there is one thing that is growing more and more apparent, it's that Anthony is taking his Jordans to the Big Apple.